Earthwool® glasswool Midfloor Insulation batts 90mm × 430mm × 1160mm R2.8
Area per MasterBag (m²) =

25
Earthwool glasswool R 2.8 delivers superior acoustic and energy saving properties that help ensure your home remains peaceful blocking unwanted noise and making it significantly more economical to run.
Earthwool glasswool R 2.8 is super soft, made using recycled glass and has a 50 year, long-life warranty. Installation is quick and easy.
More Information
R-Value
2.8
Thickness
90

mm

Width
430

mm

Length
1160

mm

Area per MasterBag
25m2
Packs per MasterBag
5
Price per m2
$22.69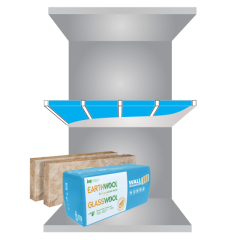 Earthwool® glasswool Midfloor Insulation batts 90mm × 430mm × 1160mm R2.8
Not sure how many MasterBags you need?
Use Our Area Calculator
Please enter room dimensions in mm
Area dimensions (mm)
Earthwool® glasswool Midfloor Insulation batts 90mm × 430mm × 1160mm R2.8